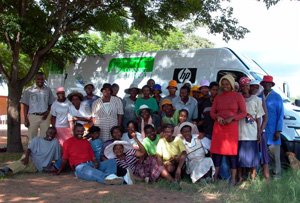 Connect Africa is an "Impact Enterprise" registered in Zambia (Limited) and South Africa (Section 21) that leverages innovative communication technologies for socioeconomic development in Africa.
We have successfully piloted sustainable rural service delivery
models in both countries over the last eight years and now, with cutting edge low tower, low power technology, we are
embarking on a project to deliver GSM coverage (voice, SMS, GPRS and EDGE) to remote communities across Zambia and beyond.
The Connect Africa business model is based on providing "fit for purpose" technology to facilitate the delivery of multiple public and private sector services directly to the rural people of Africa.
Our on-the ground network of rural service operators, established at each infrastructure site is what makes this possible – and what gives our model its entrepreneurial spirit
and dynamism.
Each of the local operators is based in their own underserved rural community and will use a variety of ICT to deliver a range of services.  These services will include communications (voice, SMS and data), public sector (agriculture, education & health) and private sector (banking, insurance, advertising, market research) services. The operator also provides first level maintenance for any coverage technology at or near his/her location.
We have adapted different elements of our business model to meet the needs of the different communities we serve and to ensure that service delivery is sustainable. For example, only the most remote of rural communities in South Africa are still without access to communications – less than 10% of the country. As a result there is not enough demand for communications services on a daily basis to cover the high cost of reaching these communities.
In order to ensure the sustainability of the Connect Africa Rural Service Network in South Africa we successfully trialed a mobile rural service centre that visited each of the deep rural communities on a fixed weekly schedule. The mobile rural service centre used
satellite or cellular technologies to deliver voice and data communications services while also facilitating the delivery of several local and provincial government services directly to
the rural communities.
In contrast to the South African model, communications penetration is predominantly in towns, cities and along the lines of rail in Zambia. Upwards of 40% of the country remains "uncovered" and, with new low tower, low power GSM technology solutions, there is enough demand in underserved communities to sustain a rural service operator's
business at a fixed location in the community.
Following our successful trials in Mumbwa District, in the Central Province of Zambia, we are now working with a leading Mobile Network Operator (MNO) to test, integrate and  deploy a network of low tower, low power base stations across rural Zambia.
The funding for the development of Connect Africa's business model has, to date, relied on donor funding – provided by the Southern Africa Trust, the Technical Centre for Agricultural and Rural Co-operation ACP-EU and the Development Bank of Southern Africa (DBSA).
We continue to build on these relationships while also moving towards a more sustainable commercially focused business model.