The Connect Africa business model is based on the delivery of multiple public and private sector services directly to the rural people of Africa. The importance of multiple service delivery in the Connect Africa model is evident in the figures below.
Services are paid for by the recipient, the service provider or a combination of both. Therefore, multiple business and government services, facilitated by the Connect Africa network, can be delivered at a shared cost. These services include basic voice telephony services, business services (print, scan, fax, etc.), data services (SMS and internet), public services (e.g. government extension offices), education services (access to e-learning sites, one-on-one training on the computer, DVD rental), health services (access to online health information and free condom distribution), agricultural services (access to online agricultural information, SPORE magazine and market prices) and mobile phone recharging, to name a few.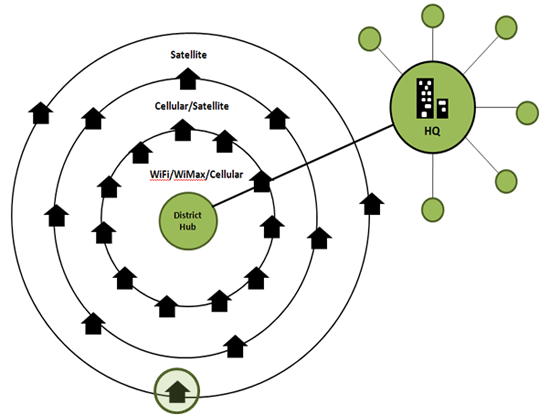 Each of the rural service centres illustrated in the diagramme above is part of a greater network of rural service centres spanning the country. A rural service centre is represented by a hut in the hub-and-spoke diagramme above. The rural service centres within about 80 km radius (depending on terrain) of the district hub are connected by boosting/strengthening a weak cellular signal or using technology such as Wi-Fi and Wi-Max to push the nearest signal further. Rural service centres located further from the district hub may have "spotty cellular coverage" that can also be strengthened. Satellite connectivity may be the most viable option for rural service centres located in very deep rural areas.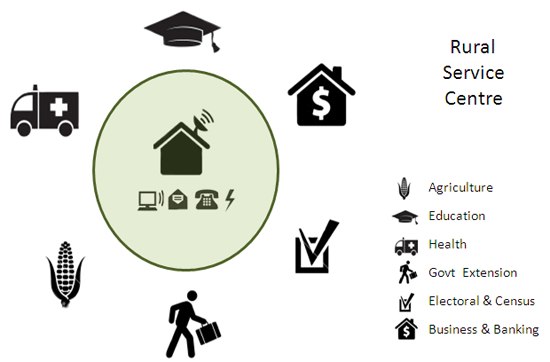 As the district hub manages and maintains all the rural service centres in its locality, the Connect Africa country headquarters office, in turn manages all the district hubs in the country. Headquarters is responsible for piecing together all the different elements of the sustainable business model for the Connect Africa Rural Service Network.
And there's more…