Left behind in a mobile world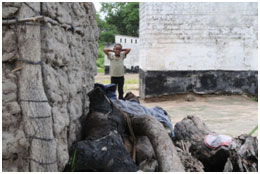 Mobile phones are a basic piece of equipment owned by just about everyone in today's fast-moving world. They are all but essential for efficiency. As Connect Africa's Director Dion Jerling puts it: "In the West everyone has phones. We just want them smaller, faster and better."
In the Kafue National Park, the second largest national park in Africa, communication is a luxury. The remote area is a haven for wildlife, but for those who work and live in Chunga Camp deep in the Park -a population of around 400 -there is no way of interacting with the outside world.
Mukambi Lodge is situated in a remote area
The lack of contact for the Chunga community, like many other deep rural parts of Zambia and Africa in general, has far-reaching implications. From the quality of information available to teachers, to the education children receive and healthcare facilities available, being cut-off has some serious drawbacks.
But things are about to change. In partnership with VanuInc (USA), Connect Africa is trialling an innovative GSM technology, a Low Power RAN BSS Super  Pico, developed specifically for deep rural communities. This is the first of its kind in
Africa – Connect Africa is leading the way.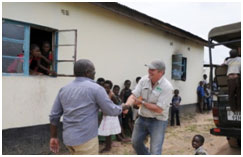 The technology is efficient, quick to install, safe and will be powered using alternative energy – solar and zinc air fuel cells. The zinc fuel cells will also provide the local community with basic power and light.  Being assembled and recharged at a local service shop this alternative energy solution will also provide employment opportunities as well as connectivity.
Connect Africa is working in partnership with local communities, the Zambia Wildlife Authority (ZAWA), health organisations, education organisations, alternative energy specialists and some of the world's leading developers and providers of information and communication technology to bridge the digital divide in areas like Chunga.
This is the first journal entry in a series following the project and its impact on the local community in Chunga Camp as they express their concerns, challenges and hopes for a more connected future.
Huge potential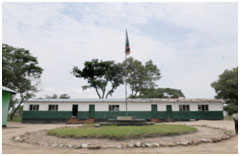 Most people in Chunga own a mobile phone, and three different SIM cards, one for each of the three Zambian mobile network operators. To find coverage currently the trick is to travel  40km along the Mongu Road to find a signal, or to travel the whole distance to the nearest settlement 75km away. One pupil at the Chunga school estimates that 70 per cent of school pupils own a phone.  Community members claim that they spend up to US$10 a month on talk-time, despite being in a zero coverage area.  Access to coverage will undoubtedly change lives.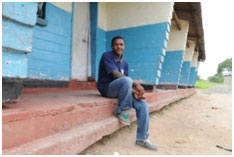 At Chunga Basic School, which is also a boarding school, pupils are aware of the amazing possibilities the internet and mobile phone connectivity could bring. They know about Facebook and other social networking sites. Nchimunya Chilundu, a pupil at the boarding school, said he and most of his contemporaries are keen to use them. "We would like to have an Internet network to keep in touch with family and know what is happening in town," he said. On a more important level perhaps, the lack of communication in the area, and others like Chunga, has huge impacts on the education of pupils like Nchimunya.
Head teacher Mwanza Shadreck explains that currently teachers can only communicate with the Ministry of Education, other district offices and parents sporadically. Typically relatives of pupils at the school are contacted by mail or phone every two weeks when teachers are in Mumbwa, the nearest sizeable town 100km East.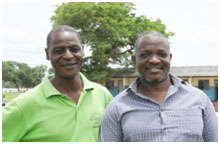 The lack of communication means that often sports matches are missed and teacher training days are lost, according to Deputy Head Teacher at Chunga Basic School, Gibson Mponde. "Right now, the grade nine results are already out and most schools have already collected their results. But because we got that information late, our children are still waiting to know the results," he said.
Spreading health messages and education
Laura Kaiser, a teaching and training volunteer with CHAMP, an organisation working on HIV / AIDS and other health issues, says that teachers are hungry for more information. "The teachers know there is a lot they would like to teach but at the moment can't and they want to improve their skills. One teacher said his lessons are about current affairs, but he doesn't know what's happening in the world," she said. "They are hungry to know more."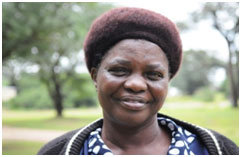 She added that as far as health concerns go, an effective communication network could significantly improve the well-being of people in the community. "People can't go out at night because of the wild animals in the park. If they are sick, with a mobile phone connection they can call the nurse or a heath line if there is a problem. Sometimes it helps to at least talk to someone until health services are available," she said.
There is a clinic in the community, run by Enrolled Nurse and Midwife Fatness Tembo. She treats people of all ages and ailments, with her main duties to screen patients, distribute drugs, counsel or test for HIV and deliver babies.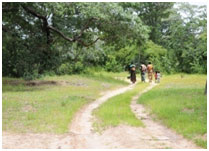 "Even communicating to our district health office, unless we travel about 160km from here, is not possible, and transport is often a problem," she says."Communication would change everything.  Suppose we run out of HIV tests, we need them here. How do we communicate that we need more? We have to go to Mumbwa to make a call. We are looking forward to see the programme to bring communications here successfully. It's really important," she said.
Saving time and money
In case of medical emergencies, the Zambia Wildlife Authority (ZAWA) office, which has transport and a basic internal Internet communication system via VSAT, is able to assist. But even ZAWA struggles with no mobile phone services and its own satellite communication system suffers from poor performance and high costs.
Zambia Wildlife Authority Warden for Kafue National Park North, Gryton Kasama, pulls into the head office driveway dressed in a dark green uniform and settles back down at his desk.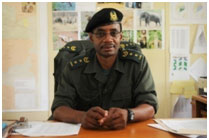 He has just arrived back from a trip to make an emergency business call which took him out of the office. He explains that communication would boost information and significantly increase the efficiency of ZAWA's operations.
"I've just driven about 40km to go and make an urgent phone call to head office," he said. "If we had network in the area we would cut the cost and time of driving all the way to the Mongu road to find a network. When we need urgent feedback that's what we have to do. It would be a great relief to have a network right here," he said.
Time to get connected
The current Super Pico test trials at Chunga Camp will show that there is huge demand in deep rural areas for connectivity and information. There are vital services – from transport to education, power and water supply to health provision – all of which are literally available at the end of a phone line.
We will keep you updated with progress and the results of the test trial. Currently, expectations are to roll the Super Pico technology out across Zambia and then the continent for a more connected Africa. These are exciting times.
Written By Georgina Smith Email:
For more information contact: Dion Jerling – Special Projects Director
Cell:+27 82 487 8354 (South Africa) Cell:+260 9658 60113 (Zambia)
Email: