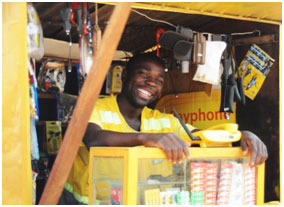 With a beaming smile on his face, Joseph Kalunga laughs as he remembers his struggle to set up a small shop two years back. In the heart of the dusty town of rural Mumbwa, 140 kilometres from Zambia's capital Lusaka, he operates right next to the bustling central bus stop. Now business is going well.
"I remember everyone coming to ask me if I had a phone, they wanted to make a call," he said. "It was frustrating because I didn't have one. There are a lot of people who will buy talk time here. I saw a business opportunity – everyone wants to be connected, so I spoke to Connect Africa and bought a phone. Now business is going well," he said.
Getting connected in Zambia and the developing world in general is increasingly important. Firstly, Information and Communication Technology (ICT) services are a way of making money. They also empower local communities with knowledge to make their own decisions or business opportunities, and they can save time and money by cutting out long distance travel for example.
In Zambia, the number of mobile phone subscriptions leaped from 500,000 in 2003 to more than 3 million in 2008 according to the Panos Institute. And the number of people will access to mobile communication technology is growing. One of the main problems is network coverage – something Connect Africa is working with global service providers to provide (see Chunga Journal). But in the meantime, Connect Africa is working with small scale entrepreneurs to tap into the global communication network.
Mobile profits up and running
As well as renting out his community pay phone, Joseph also sells talk time – scratch cards to top up mobile phone credit. The Connect Africa team in Mumbwa has pioneered the use of ICTs like payphones and talk time credit as a steady source of income to support further business development. Plugging these services not only brings in regular clients, but profit too.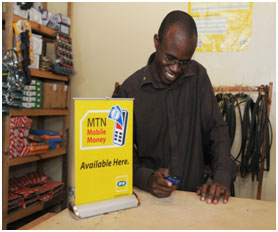 Now, with guidance from Connect Africa, these small enterprises have clocked onto another big concept: mobile money. After becoming registered,this money transfer scheme is sweeping through the country as a cheap and easy way to send and receive funds. With few banking facilities in rural areas and low transaction costs, small scale vendors are offering a highly valued service.
Francis Phiri owns a large store selling spare parts and now mobile money. "I've had my business for 10 years, and there has been a radical transformation since mobile money," he said. "The number of customers has increased and people who use the service bring other people with them. I've employed another person to do register customers. This is my easiest and most reliable way to make money," he said, making roughly US$ 10 per day.
Healthy community, healthy balance sheet
But encouraging small scale entrepreneurs to make more money through communication services is just one aspect of Connect Africa's role in Zambia, Lloyd Kabulwebulwe, CA's regional coordinator explains. "We realised that one major activity communities rely on is agriculture," he said."So we're boosting knowledge development in rural communities by promoting ICT services, targeting those who have been under-serviced in terms of ICT related activities," he added.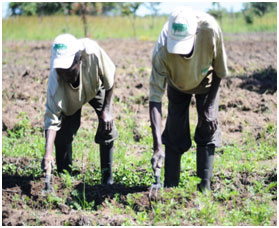 "Our philosophy has been to build a pilot farm where people around the area can learn new ways of practising sustainable and organic agricultural techniques. We would like to show to the communities that they can earn an income from vegetable farming as well," he said. The farm, Kutenda Farm, based just outside Mumbwa, is green and bursting with different kinds of vegetables and herbs. It's a structured plot which highlights permaculture activities and organic farming methods like inter-cropping, integrated pest management and mulching.
The farm has only been operating a couple of months. But already interest in the farm's activities is growing, and supply is outstripping demand for produce. Victor Chinda, Farm supervisor, says that the pilot plot aims to show local communities that minimal amounts of pesticide and fertiliser are actually needed to farm successfully.
"We make manure and compost which supplies us with fertiliser for the fields. We are intercropping with hot chilli, dill, thyme and chives for example to repel certain insects and we grow trees to provide vegetables with shade and put nutrients back into the soil," he said.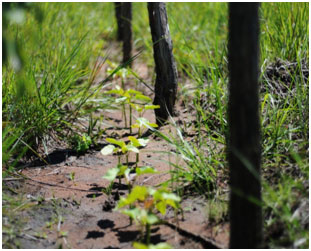 For some, like caretaker Langson Ntobolo, the pilot scheme has been a real eye opener. "There are a lot of things that we have learned. Now when I see blackjacks I don't cut them down because I know they repel insects which damage the vegetables," he said. In fact, the trial plot has the potential to change lives. As it is near a game management area close to the Kafue National Park, many people in the local community who can't sustain their families fall into illegal poaching activities.
By learning alternative livelihood techniques – like sustainable organic farming – former poachers have the opportunity to nurture green fingers instead. And with big potential: Kutenda Farms is now working to supply not only the community with vegetables and fruit, but lodges and hotels too. It's all about knowledge empowerment – and being connected.
By Georgina Smith
Email:
For more information contact:
Dion Jerling
Special Projects Director
CONNECT AFRICA
Cell: +27 82 487 8354 (South Africa)
Cell: +260 9658 60113 (Zambia)
Email: