Having left the border of South Africa and entered Botswana, we drove along the pothole-ridden road towards our stop for the night: Elephant Sands.
With Alanis blasting on our radio, singing "I'm lost but I'm hopeful…" and the syrupy after-taste of a sweet still lingering, we pass an old man walking briskly with a walking stick in the opposite direction.
I wonder where he is going so intently. There's nothing around but scraggly bush and dust, and the odd little herd of goats, as we've been bustling along over 100 km's per hour.
And then we pass some youngsters on a donkey drawn cart. The scruffy donkeys look tired, pulling the cart and passengers with what I assume is a barrel of precious water.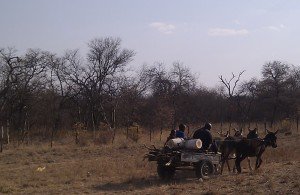 From my comfy seat high up in the front of the Connect Africa van, I think of how different our worlds are. Just a few hours earlier we were up at the crack of dawn, leaving Johannesburg to get the Expedition going. During the drive to the border, I had my laptop open in the van, connecting to the world wide web through my cell phone, Facebooking, emailing clients, updating my website, chatting to my friend – all at once, -and catching a glimpse of warthogs eating grass on the side of the road.
Our worlds are so different… And yet so similar.
We're also travelling intently in a direction like the old man, just with more speed and covering a longer distance. We're also carrying boxes and bags precious to us, just with horse power rather than donkey power.
And I cant help but smile, as I wonder if they're humming one of their favourite tunes too, as we sing along to Alanis.
We may experience life differently, but we are all the same too.
"…. and what it all comes down to,
is that I haven't got it all figured out just yet.
I've got one hand in my pocket
and the other is giving a peace sign"
Written by Telana Simpson