"Communication is important where there are people" shared Sunday Shamabanse, the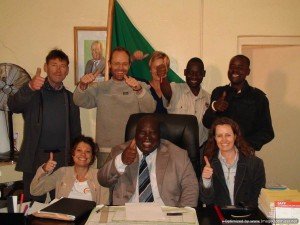 District Commissioner of Mumbwa, from behind his large wooden desk with us in the plush, emerald green armchairs in his office.
He'd arrived a few minutes late for our meeting on Wednesday, having to walk to the office that day.  He was very excited to hear of the possibilities of Connect Africa bringing more coverage to his District.  "Things will definitely change when Connect Africa comes" he concluded.
Having the District Commissioners blessing for our visit to his District, we were ready and eager for our visit to Kabulwebulwe Palace.
Once we arrived, the ladies and I put on our colourful chitenges and were greeted by the Chief Representative (aka Vice President of the Chiefdom) Ngambela Kapulisa, and a group of elders.
Following the protocol, the Chief Representative and elders went into the Palace first to announce that we had arrived.  This gave me a moment to look around.  The Palace consists of a few buildings and huts, surrounded by a reed wall, with two entrances: one for family, and on for visitors on the other side.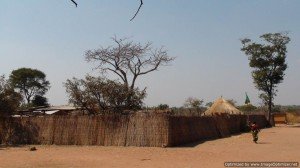 Around the Palace were some scattered huts, children wrestling in the sand, and women cooking traditional beer in big barrels over open fire in preparation for an upcoming ceremony.
The group of elders came back to fetch us, and we were asked to follow them, single file into a short maze entering the Palace.  When we were all in the first alley, we followed the elders lead and knelt down on one knee, and clapped a specific number of times, and then went around the next corner, knelt down again, clapped again and then ducked our heads as we entered the hut for meeting guests.
We were offered the chairs, while the elders sat on the floor, and after a few minutes we heard more clapping and the Chieftainess Kabulwebulwe arrived, and sat on her big armchair.  After we clapped again, the rest of our meeting with the Chieftainess consisted of each person, including us, introducing themselves, and their role in being there, with Prince Lloyd, who is the Chieftainess's brother, acting as our translator.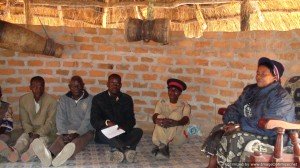 The respect and honour was palpable.  Respect for tradition. respect for the wise elders, respect for us travelling far to meet with them.  And our respect for their culture, respect for the effort that some of the elders took to meet us, being in their eighties or nineties, and having walked many kilometres or cycled to get to the Palace to welcome us, and honour, for us to get to witness the appreciation and consideration each person in the room had for each other, and their leader, the Chieftainess.
We then also had permission to ask her our interview questions, and the film crew had extra to cope with, with remembering not to turn their back on the Chieftainess, and going through the kneeling and clapping ritual when leaving to fetch equipment, and again on returning.
I have yet to find some time with Prince Lloyd, to ask him to explain to me the Chieftainess's answers, as we have not had any idle time.  After our time with the Chieftainess, we were shown around the local community, by visiting one of the schools, the clinics, a farmer and also stopped off at a market on our way back to our campsite.
It's been an eye opener of an experience, not only hearing the answers from the people living in rural Zambia, but also from having the experience ourselves.  We've run out of battery power to often, and finding a means to charge up again, from car chargers, to generators, to solar panels, is all adding to the challenge of this expedition.
So before my dinner gets even more cold, and my battery dies totally on me, you'll have to wait to hear more of our exploration of technology meeting rural, and traditional, culture.
Written by Telana Simpson
Date of visit to this Palace:  Wednesday 25 July 2012 
Powered by MTN Zambia, using their Huawei Wifi Modem