The big smiles that greeted us when we entered the classroom were coupled with a warm welcome: "Good morning sir, and how are you?" Their text books covered in dust-proof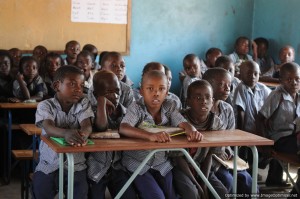 plastic bags sitting neatly on their desks, the rows of students stared wide-eyed at the bunch of strangers who had just entered their classroom. Sitting as quietly as they could in the background, we interviewed head teacher Edward Haachipola on camera.
He explained how communication can improve education at the school by seeing how other communities learn, as the children squirmed in the background trying not to make more noise. "We don't have nice classrooms, our school is very poor," said the head teacher escorting us back to our crew vehicles. But from what we have seen on our trip so far, it's not so much about the way schools – and the other structures we have visited like the Chief's palace this morning – look. It's about what happens in them that matters.
The doctor at the clinic summed it up. "Knowledge is power," he said. If the clinic is empowered with information through the internet or simply over the telephone about the latest drugs available, the community will "trust" them more. Communication technology is about giving communities in small villages the chance to pick up the phone and make a phone call – to make decisions and effect outcomes.
That will hopefully be there for the next generation – and it doesn't matter what the outside of a building looks like, it's empowering people to bring about changes in their own future that makes the difference.
Written by Georgina Smith / Magic of Zambia