After our audience with the Chieftainess Kabulwebulwe, our refreshments at the Palace was some beer brewed from honey, served in beautiful blue and gold glasses for those who were near the Palace, or in a shared tin mug from the Security Guard's wife, for those of us wandering around the other side of the community based around the Palace. Chris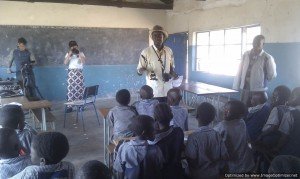 really enjoyed it, so much so that he handed me the keys to the van to drive for a while.
We headed off through African bush and came out to a clearing, where there were a few shops, a shabeen and Lukhanga Basics School.  We all found a chair to sit on in Mr Hachibola's office, the Head Teacher.  The room had little spots of light all over it, from the holes in the tin roof.
After introductions and explanations of our wanting to know how he used and would use technology, we found some better lighting in the classroom next door, full with nearly 60 students.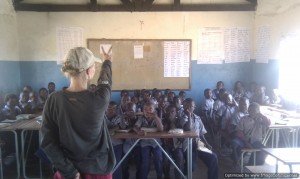 As Francois and Chris were setting up to do the shoot, Mr Hachibola went for a short walk to the neighbouring shabeen to ask them to turn off their amped music, so we could film.  Prince Lloyd stepped up and explained to the children watching in bewilderment about what we were doing, and why, and then Jane taught them the game "Simon says…" which entertained us all.
Even though Mr Hachibola confessed that he was not putting his phone to full use, he echoed the other views we were starting to hear often, that having better coverage would help and is wanted.  This is because cellphones are a cheaper way of communicating and connectivity would give the school information in short space of time.  He summed up who he was by saying "my job is to make sure learning is going on here."
Our next stop was at the clinic in the area, where the doctor we spoke to felt that having coverage would help him offer the best service to his patients, including being able to call for assistance from hospitals when needed.  And having connectivity, he would be able to share the latest information with his patients, which for him was important to build trust and credibility, and encourage more people to make use of the facilities of the clinic.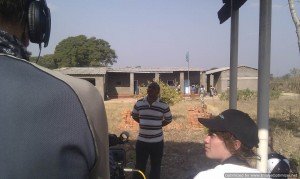 After a round of G and T's and some more games of tag with the children waiting for us at our campsite, we went Italian for dinner, having spaghetti bolognaise around the fire.  The conversations continued to flow around how tradition and culture is changing or being lost from the influence of technology, sparked by our meetings during the day.  We then crashed again in our sleeping bags, anticipating being woken by the chorus of roosters before sunset.
(PS- see more photos here)
Written by Telana Simpson
Date of this visit:  Wednesday 25 July 2012
Connectivity sponsored by MTN Zambia, using their Huawei Wifi Modem