Thursday was the day we explored the Chiefdom of Moono.  This meant that we didn't have to get up when the roosters started their crows, but could have a bit of lie in because the Palace was a 500m walk away from our camp. And those that hadn't had a "shower" the night before had time to experience the rural ablutions.  I was one of those.
I've noticed walking around the rural communities, that there is always a big pot of water sitting on the edge of a fire keeping warm, ready for anyone who would like to bathe or wash hands.  Armed with my plastic bucket with some of our pot's hot water in it, and my toiletries under my arm, I walked the pathway in the tall grass to the neighbouring clearing where the long-drop (toilet) was.  On the opposite side of the pathway, where a hen and her chicks were scratching for some food in the scruff, was the reed, open air "shower" enclosure.  Inside was just a few stones, some broken paving slabs, and an old plastic bottle in the corner, all wet and muddy.
Quite a different setup to the bathing area in the more modern Senior Chief 's Shakumbila Palace.  Friday we moved our camp to his Chiefdom, and were invited to claim a spot for the few days we would be visiting, inside his Palace.
[Photo: Telana pumping water from the borehole outside Chief Shakumbila's office]
We arrived in the mid-afternoon the day before the Chiefdom's big, important traditional ceremony happening all day on Saturday.  The arrival and meeting protocol was less formal, being invited into his office to introduce ourselves and explain the reason for our visit.
My turn for a shower was the morning of the ceremony, and armed again with my bucket of hot water and toiletries under my arm, and Georgina accompanying me to guard the none-existent door, we headed across the Palace courtyard.
The ablutions are in an outhouse, next to the Chief's residence, consisting of the bricked in bathing area, next to a long-drop.  Inside was a few stools (low chairs), and some large, empty plastic buckets, ready to be filled with bathing water when needed.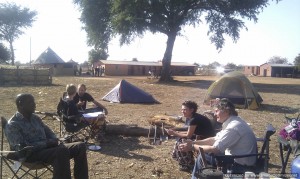 [Photo: Interviewing Chief Shakumbila over breakfast, with his Palace in the background]
My timing was impeccable: as when we arrived, so did the Chief, as his bath had just been prepared for him.  And so we left my bucket of water outside to claim my spot in the "queue", and were called a bit later from our camp when the shower was free again.
But I digress.  Thursday was the day we explored the Chiefdom of Moono…
(PS- see more photos here)
Written by Telana Simpson
Connectivity sponsored by MTN Zambia, using their Huawei Wifi Modem