As I was saying, Thursday was the day we explored the Chiefdom of Moono.  We walked from our campsite along the few hundred metre dirt path, flanked with tall grass, and came to a dirt road lined with large trees, that led up to the Moono Palace.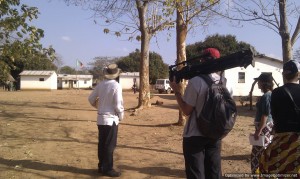 At the top of the road our protocol guide, Prince Lloyd, suggested we wait to be invited in.  Ahead of us were a group of white washed buildings with corrugated iron roofs and a few mud hut structures with straw tops.  A flag pole proudly held the Zambian flag high in the centre of the Palace, with trees scattered around and a land cruiser parked to the side.
A group of elders sat facing us on plastic chairs by the mud structure for ceremony, and after a few minutes, Prince Lloyd suggested we wait while he goes to them to announce our arrival.
When Prince Lloyd returned to us, he explained that unfortunately Chief Moono had a family emergency that he had to attend to, so was unable to welcome us personally, but his Chief Representative, Mutapwe, and the other elders would host us.  We then walked respectfully to the group of elders and joined them on the plastic chairs, which were arranged in a circle.
After each person introduced themselves, Prince Lloyd explained the reason for our visit, and one of the Chief's advisors informed us of the (jam packed!) programme they had organised for us for the day.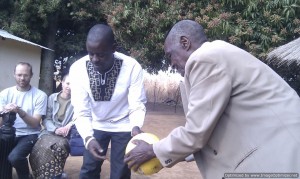 We then also presented our gift for the Chief, and while the film crew went to prepare the vehicles with cameras inside, some of us chatted more with the elders and walked around the palace to get a feel for it.  … to be continued.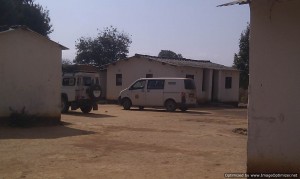 (PS- see more photos here)
Written by Telana Simpson
Date of visit to this Palace:  Thursday 26 July 2012 
Connectivity sponsored by MTN Zambia, using their Huawei Wifi Modem