We drove for a while on a "road", thankful that our vehicles could handle the bad condition of the dirt, and with a more sympathetic awareness of why the elders of Moono Chiefdom, in our earlier discussion at the Palace, had said that a priority for them was to improve the conditions of the roads in their Chiefdom.
Our first stop in our jam packed programme for the day was to their traditional healer, or sangoma.  Dr Longwani, a tall, smiling man with a hearty laugh, booming voice and a large presence, captured all our hearts even though he couldn't speak English.
His office is a raised mud hut, enclosed from the other huts in the clearing by a wire fence, and with many plastic bags, charms and feathers hanging from the thatch roof.  While we sat and recorded his interview in his vernacular, I noticed the many car parts lying around, and the old land rover up on bricks in the courtyard: Dr Longwani was also a car enthusiast.
After his interview we got to see the inside of this office, with a shrine where much of his work was done over, together with administering herbs from the pile of roots and tree bark and branches, which were stored outside under a shelter. 
He did offer to make some love charms for the single ladies in the expedition team to help them find husbands.  The offer was graciously declined by the independent and "modern" women for varied reasons, while the men wore amused smiles.  It was an interesting juncture of two different cultures crossing and wishes of cultural beliefs being projected.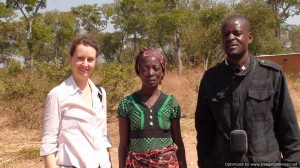 The previous day we had spoken to Rosemary Mwita, another traditional healer at the Chiefdom of Kabulwebulwe.  She uses herbs and the roots of four different types of trees to help her patients. The majority of the complaints they come to her for are infertility, to be cleansed of evil spirits, and for lucky charms for love and employment.  She also refers people to the local clinic for conditions like TB and HIV AIDS.
The benefits she explained of how technology was helping her serve her patients, was that it has alleviated her previous challenge of not knowing if she had helped them or not.  From a quick sms she could find out and then assist them further if their problem persisted.  It also allowed her to have clients living outside the Chiefdom and from other towns and cities.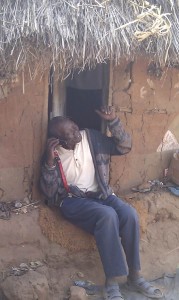 And we saw these sentiments in action when, in Dr Longwani's remote little oasis in the bush, he received a phonecall from a client in a distant province, who was calling to make an appointment to come and see him.
This is an example of the value that cellular coverage has for rural people and their livelihoods.
Although we would have liked to have stayed longer with Dr Longwani, we had our next visit lined up with the farmer Charles Kasebausha… To be continued
(PS- see more photos here)

Written by Telana Simpson
Date of visit to healer:  Thursday 26 July 2012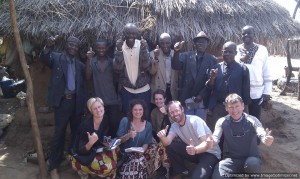 Connectivity sponsored by MTN Zambia, using their Huawei Wifi Modem