We experienced the connectivity challenges of rural Zambia first hand.
We'd left Lusaka just three days ago, and now all our batteries were flat, or flashing red.  We'd come prepared as we could – knowing this eventuality would occur – with bags of wires, cables, adapters and even a little solar-panel-with-small-battery set.
On our second night we got our generator going, and with some macguyvering of the South African/Zambian plug adapters, had some laptops plugged in charging away to the hum of the petrol motor.  The car charger in the van was in overuse, and a mishap with our invertor led to a puff of smoke and a useless spare battery.
I blogged by the light of the fire till my two laptop batteries died, and then waited my turn for the generator, which didn't arrive that night.
So when we got to pack up our camp the next morning (Friday) and zoot (with as much zooting-ness as you can muster on rough, pothole ridden, dirt roads) through to the Connect Africa Regional offices in Mumbwa for half an hour of access to electricity, I was over the moon!
Every single plug in every office had something sapping up power to recharge some technological gadget or device.
After half an hour, we got a message from Senior Chief Shakumbila who we were about to head to, asking us to wait a bit before heading to his Palace.  That short wait turned into 5 hours.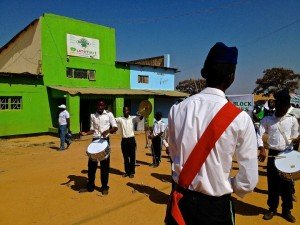 This allowed me time to recharge everything and upload some videos and photos with the better 3G connection I had in the office. And it gave the rest of the team time to explore the market nearby and see the brass band march down the main street of Mumbwa.
[PHOTO: The passing Brass Band, photo courtesy of Francois Hayden.]
Besides electricity or some form of power to charge phones, laptops and cameras, there is also the challenge in rural Africa of finding those elusive few bars showing that you are in reach of a network, and can become "connected".
At least with travelling around the region, we got moments of connectivity.  For example, Dion was leaving Lusaka that day and heading to the Shakumbila Palace to join us, and the only directions he had included pointers like "when you reach that town, find the local bar and then ask someone to show you which road leads to the Chief" and specificity like "drive along for 10 to 16 km, and then ask for directions to the gravel road that leads to the Palace".
So as we were driving along through some patches of connectivity, finding our way with our navigator Prince Lloyd to meet Senior Chief Shakumbila, I was relaying more specifics via Wassup to Dion. And in between I had an indepth and fascinating conversation about leadership with Headsman Mutapwe of Chiefdom Moono, who we were giving a lift to (but that's another blog post for later).
For the last few days of our expedition, I found connectivity by walking around the Shakumbila Palace looking for that sweet spot, holding the modem and laptop in one hand,  typing with one finger, while my new friends Lilian (the Chief's secretary) and Moses (his son) and their other young friends looked over my shoulder, watching me upload my blogs and join me in my dance around the Palace with that elusive connection.
I now empathise even more with the rural communities of Africa saying that they need more coverage, better roads and electricity.  With us having mobility, generators, portable solar panels, car battery chargers etc and even access to offices with electricity, we still found it a challenge to use the technology we had.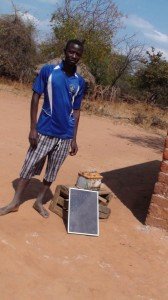 So I take my hat off to those creative people who are finding ingenious ways to charge their phones: some walking for miles to find a battery or power point; or saving up for solar panels to charge old car batteries; or even paying to put their sim card into someone else's phone to send a sms.
And, I also salute the Connect Africa Team for their committed and passionate efforts to connect rural Africa.
[PHOTO: Solar panel at a farm in Moono Cheifdom]
(PS- see more photos here of our Palace Expedition)
Written by Telana Simpson
Date of visit to Regional Office:  Friday 26 July 2012
Connectivity sponsored by MTN Zambia