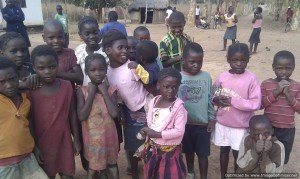 "We will be running on the modern life (with access to technology)… You see our children when they see visitors like you, they think it is strange, but we are all the same.  So technology will help them learn about others."
This statement from one of the Headsman of the Chiefdom Moono stuck in my mind.  It's become known that in Africa the children find visitors to their areas fascinating, and will hang around for hours watching and wondering.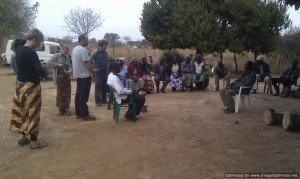 And yet, we are the same- we're all just people, with different ways of doing the same things (like bathing).
I then thought to half an hour earlier, when we drove up the road, lined with trees that seemed to not fit in with the surrounding African bush, having being planted intentionally.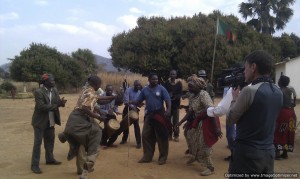 While we had been all over the Chiefdom visiting a traditional healer, a farmer, a doctor and a teacher, people had been arriving all day and gathering at the Palace, waiting for us to return. When they saw us approach in our vehicles, they started beating their drums, raising their spears and dancing.
We jumped out the vehicles as they came to a stop in Moono Palace, and were surrounded by the dancing crowd who were, as we learnt later, welcoming us through their songs and dance.
Our cameras were taking photos and filming the experience as quick as we could turn them on, wanting to capture some of the spectacle to show others.  Were the tables not turned now? Was our interest in this dance not the same as the local children finding us visitors fascinating?
Technology is a way, if used purposefully, for us to narrow the divide.  After all, that is part of the reason why we were here at the Palace – looking at how ICT will impact these communities, and wanting to learn more about them and their need to be connected.
As the song and dance ended, our welcoming commission walked away, and in a few minutes couldn't hold the rhythm in them any longer, and another drum beating dance began.  This time, Chris joined in, surprising us and the locals with his hip movements.
After a few more dances, the group sat under a tree, and we joined them to do our interviews of the elders.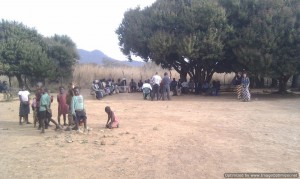 "We will not lose our tradition. When we have both (technology and tradition) it will be easier to combine the two.  Now we don't have technology so we can't combine them," continued the Headsman.  He explained that they had no problems with modern technology and cell phones.  "We really want them!"
Even with admitting to a few drawbacks that technology like cell phones might bring, the communities we visited felt that there were far more positives.  "In negative part, it is only when the person is not open and telling the truth."  The headsman was pointing out that those married people committing adultery were being caught out by having their lover's details on their phones.   "It gives advantages to good people, not to the thieves or those not telling the truth."
And isn't that the Truth.  Social media is showing how being honest and transparent in today's world is crucial.  News travels fast now.  People snuff out dishonesty and a lack of congruency through your online behaviour.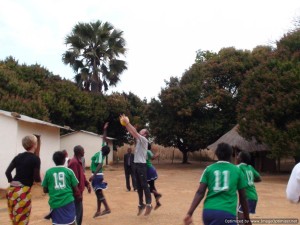 After our questions were answered, and some wisdom shared, we handed over a MTN Zambia soccer ball to the local netball team, who had arrived in their team kit to see us.
And of course, the ball got thrown about and turned into an impromptu netball match, with us visitors being shown a thing or two in the dirt courtyard, much to the delight of the crowd watching.
Written by Telana Simpson
Date of visit to Palace:  Thursday 26 July 2012
Connectivity sponsored by MTN Zambia
(PS- see more photos here)